#FFFFFF
Additional information is enclosed in the application. Applications and letters of support can be submitted to cdec@state.co.us.
#FFFFFF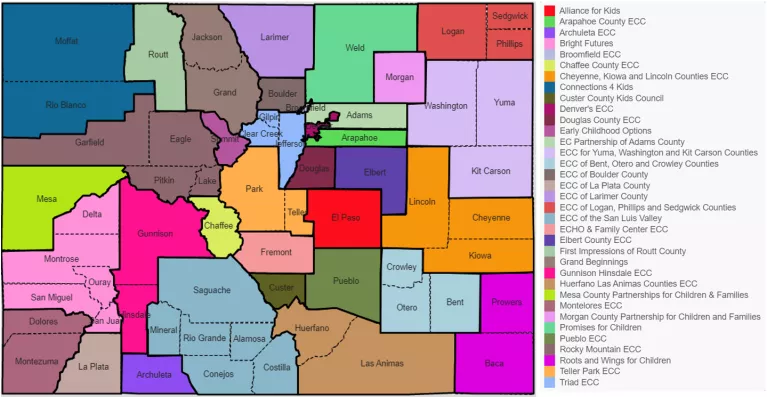 #FFFFFF
A Local Coordinating Organization (LCO), as identified in HB22-1295, is a community agency or organization responsible for supporting local access and equitable delivery of early childhood and family support programs. An LCO fosters partnerships, creates alignment, and establishes a comprehensive, locally supported plan for providing early childhood and family support programs equitably. This model was created as a result of extensive stakeholder feedback, identifying local entities as those who are best positioned to understand the varying needs for early childhood programs and services in diverse communities throughout the state. The LCO will serve as a liaison between families, the local early childhood system and the state.
In year one, LCOs must, at minimum, coordinate a mixed delivery system of Universal Preschool in their community. Some LCOs may be prepared to take on a larger scope of work in the first year, while others may need to build this up over time.
#FFFFFF
Any government or non-profit entity that is involved in their community's early childhood system may apply to serve as an LCO. This includes, but is not limited to:
County or municipal government agencies

School districts

BOCES

Early Childhood Councils

Family Resource Centers

Special taxing districts

Head Start Grantees

Local non-profit organizations

Charter school networks
Partnerships and new organizations that bring together multiple entities can also be formed to serve the LCO role in their community.
Resources for Community Conversations
#FFFFFF
In partnership with the Early Childhood Leadership Commission, a toolkit has been created to support a community's early childhood stakeholders in coming together to discuss the local early childhood system, begin identifying a potential LCO, and prepare for the implementation of Universal Preschool at the local level. Please see the following resources, which include resources to be shared with all participants in these community conversations, as well as resources to support the facilitators of these community conversations, which will generally be the local Early Childhood Council. Click here to find your local Early Childhood Council and get involved!
#FFFFFF
Resources to be shared with all participants
#FFFFFF
Facilitation resources for Early Childhood Councils
Spanish language materials are available here: